Wanna know what made me survived the summer?


Arizona Green Tea with Ginseng & Honey
I'm serious, I am really addicted to this tea. But what I have is the powder ones where you mix them with water and add some ice blocks hmmm. I like mine sweet, sweeter than regular. That's why I prefer powder form so I can mix it whatever I like : ) It tastes just like sweet lemon tea, but this one is supposed to be healthier because it's 100% Natural, it also contains Ginseng and the sweet comes from Honey instead of Sugar.

Do you know Honey is the only food/product that never goes bad? : )

What's this? Healthy Life 101??? LOL

Anyway I love this tea, as much as I love Teh Botol..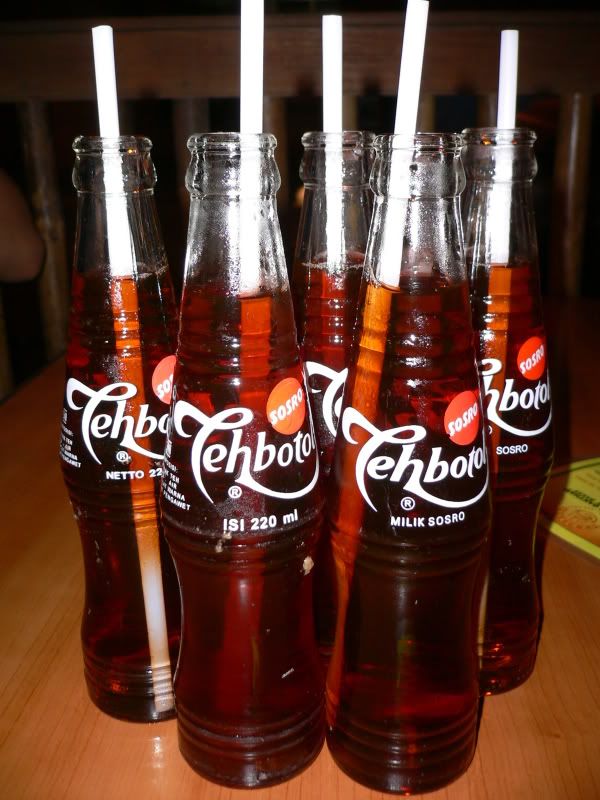 Teh Botol (Bottle Tea) is a sweet tea from Indonesia and OMG it tastes soooo good! I've been missing it a lot ever since I live away from home. I searched for good tea in Japan, but nothing comes close, some are good like their Ochaお茶 & Matchaまっ茶 but i.m.o nothing beats Teh Botol : )

k enuff with the Tea-fetish...or shd I say Feteash? o.O *w00t*

Anyway today I got a package from another swap I did @ MUA and I sent out my Tiramisu Goats Milk & Honey Cream from Cozy Moment's since the scents doesn't really work for me, and guess what she sent me?


HELL YEAH! Iced Tea Twist Lotion from Bath & Body Works!
She also includes some samples : ) what a doll !

I've been wanting to try the Temptations line but this Iced Tea Twist collection has been dc'ed so I was thrilled to know someone in MUA wanted to exchange hers with my Tiramisu. It's brand new & 10 Oz too...

The best thing about it is, it smells just like my lovely Arizona tea !! So now I can drink up & sniff my arm @ the same time....ohhhh tea indulgence......

*off to make iced tea*